Brendan Fowler
was selected as the 13th overall pick by the Charlotte Hounds in the 2014 MLL Collegiate Draft. In his role as a faceoff specialist, Fowler finished his career as a Blue Devil with a 60.9 win percentage and 474 ground balls. He was a USILA First-Team All America honoree in 2013 and a member of the back-to-back National Championship teams for Duke. In his first season, he added 20 ground balls and a 43.0 faceoff win percentage. In 2015, Fowler played in the MLL All-Star Game and finished the season with a 50.4 faceoff win percentage and a team high 94 ground balls.
Name: Brendan Fowler
Team: Charlotte Hounds
Position: Middie / Faceoff Specialist
College: Duke University
High School: Chaminade High School, NY
Twitter: @BRabbit_3
Instagram: @brabbit_3
You competed in lacrosse, football, and wrestling while at Duke University. Talk about impressive. What was that experience like for you?
My experience playing lacrosse, football, and wrestling at Duke was amazing.  I got to compete in 3 sports that I love and make a ton of awesome relationships that I know are going to last me a long time.  I played football and lacrosse for Coach Cutcliffe and Coach Danowski who were both national coaches of the year in 2013. I don't think many people can say they got to play for two coaches of that caliber in the same year.  Coach Lanham is another great coach who I was fortunate to spend a year wrestling for who is doing amazing things for Duke's wrestling program.  I am very lucky I had the opportunity to play for and learn from the best. 
Most people dream of winning a National Championship and you won two back-to-back! Can you describe the feeling?
It's a pretty hard feeling describe, but if I had to I guess I would say it's the best feeling ever.  To do that with my group of best friends back-to-back was really special.  We had a group of guys in both 2013 and 2014 who would do literally anything to win for each other, I don't think there is anything better than being on a team like that.
How did you like playing with your brother, Danny, at Duke? 

Playing at Duke with Danny was awesome.  Anybody who has spent time around us knows how tight the Fowler brothers are, so getting to spend a year playing with Danny in college was really cool.  I am jealous that him and Jack (freshman defenseman at Duke) have 3 years to play together.
Do you have any pre-game routines or superstitions?
No superstitions for me I like to stay pretty loose and relaxed in the locker room before the game, I guess I put eye black on every game if that counts.  I rarely have headphones in during pregame, I just sit and hang out with whoever has a locker around me.  When I go out on the field I have a routine of drills I do to get my technique dialed in for the game but nothing crazy. 
What's on your game day playlist?
My game day playlist changes all the time, I usually mix a little EDM and rap.  Last year Intoxicated by Martin Solveig was pretty hot in the Hounds locker room.  Shook Ones Pt.2 by Mobb Deep will always find its way onto my game day playlist.  I definitely have to catch up on my music game for the upcoming season.
What's the most adventurous thing you've done? Was it donating your hair to Locks of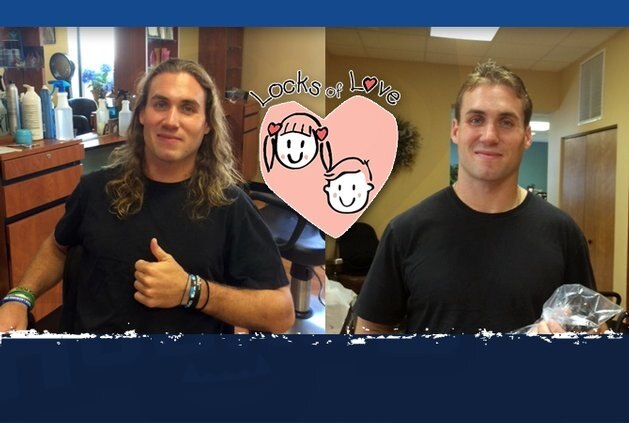 Love?
I'd say growing my hair out is definitely up there for one of the most adventurous things I've done.  I recently moved across the country to California so I think that's up there too.  I like to try and do everything a little outside the box and stay away from the common, conventional path as much as I can.
You were named an MLL All-Star this past season. That's awesome! Tell us about the All-Star Weekend experience.
MLL All-Star weekend was definitely awesome.  I got to play with a lot of players that I looked up to growing up and it was really fun to spend some time with and get to know guys who are on other teams.  It was also really cool be on the same team as my boy Jordan Wolf again, I like it a lot more when he scores and it counts for my team.
If you were stranded on a deserted island and could only bring 3 things, what would you
bring?
Tough question, assuming I can't escape probably a Hammock, surfboard (not a good surfer but I figure I'd have a lot of time to practice on a deserted island), and some sunscreen.
What's your go-to karaoke song?
I am possibly the worst singer ever, so I try to avoid Karaoke at all costs.  If I had to do one probably Just a Friend by Biz Markie.  That song used to get sung a lot in the locker room when I was a Freshman at Duke.
If you could be on any television show, what would it be?
Entourage if I could pick 3 of my boys to be on it with me. 
Your birthday is coming up… What are you asking for this year?
The only thing I want for my birthday is to spend time with my family and friends back in New York.  Moving to California has been awesome but I definitely miss spending time with them.  As long as I get to see everybody I want to over the Holidays I'll be happy. 
Do you have any advice for the young players out there?
I think the best advice I can give to young players is to value and enjoy your time and relationships with your teammates.  At some point all of us will be done playing lacrosse no matter how high of a level we make it to, and at the end of the day your relationships with the guys you played with is most important in my opinion.  It is very important that you work as hard as you can to be the best player that you can be but when it is all over nobody is going to care how many goals you scored or what your stats were.  They will remember what kind of teammate you were, how hard you worked, and how you made them feel when you were around them.